and i have a few new things coming up.
as a woman, and as a friend to both cancer survivors as well as those i've lost, i'm so honored to be a part of this cause. the
keep-a-breast
organization has invited me to be one of their breast cast artists for a benefit they are holding this october down in san diego.
here are some shots i took right before i had to send it off into the postal world.
>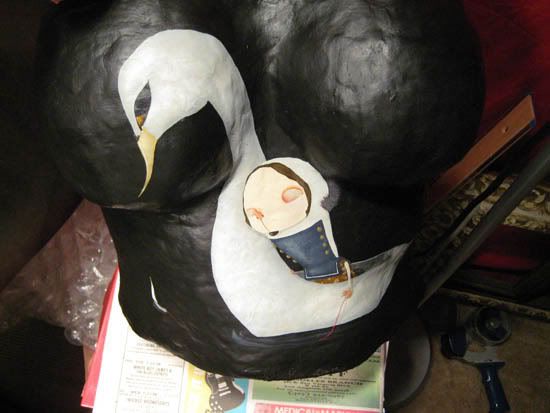 i also plan on attending the babytattooville event again this october as well, to peek around and meet new people:)
---EVENT INFO---
The 2nd annual Baby Tattooville event provides a unique opportunity for a small group of celebrated artists and enthusiastic collectors to spend time together in a relaxed yet creatively stimulating environment. Without the time constraints of a typical personal appearance, or the crowd control issues of a standing-room-only event, artists and collectors will have a weekend-long opportunity to discuss and explore their mutual interests. Original work will be created and celebrated around-the-clock, and unique merchandise and exclusive collectables will be awarded to attendees courtesy of the featured artists and the event's generous sponsors. Only 16 out of 50 event packages are still available, and they are selling fast. The festivities take place October 3-5, 2008 at Southern California's architectural masterpiece The Mission Inn Hotel & Spa. This year's Featured Artists are Ana Bagayan, Glenn Barr, Dave Cooper, Bob Dob, Joe Ledbetter, Brandi Milne, Daniel Peacock, Shag, Amy Sol and Michael Whelan. Last year's event featured Gary Baseman, Tim Biskup, Luke Chueh, Gris Grimly, James Jean, Frank Kozik, Lola, Tara McPherson, Ragnar, Jeffery Scott (1019), Jeff Soto and Amanda Visell, many of who are returning this year as V.I.P. guests. Event sponsors include Billy Shire Fine Arts, Dark Horse, Diesel Fuel Prints, M Modern Gallery, Munky King, Pop Cling, Pressure Printing, Riverside Art Museum and STRANGEco. For more information visit http://www.babytattooville.com.