i realize how lucky i am to live here in los angeles.
finally, after years, i had the pleasure to meet scott musgrove, and widen my eyes from his absolutely amazing paintings over at billy shire this past saturday.... not to mention those wooden sculptures. one of the friendliest people in the business, gave me words of wisdom as a young artist, at least 4 or so years ago, so it was a bit surreal to finally meet him.
then he lead me over to liz mcgrath...ooooh, what a show! (more pics on the picasa)
then, we headed over to see our amazing friend chet, at the chet zar copronason show.
he agreed to pose for me, and i managed to help him get some admirer interaction...just when he thought the night was over!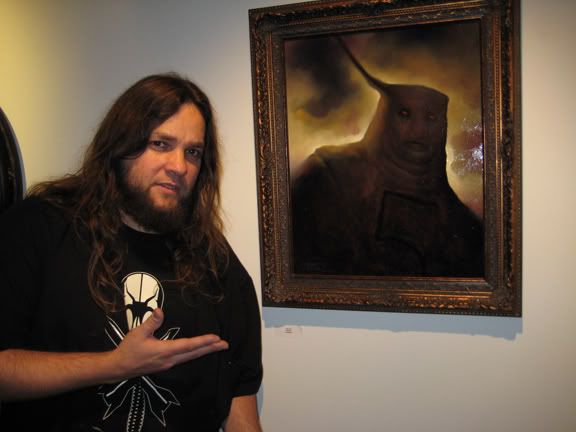 all i had to do was peek in the other room and find my tattooville buddy and arty companion, luke chueh. he was saying, "why, helllooooo" in this pose.
los angeles has horrible traffic, mean strangers, stress, anxiety, and crazy greed, but the art shows are always spectacular!